Using BC 2.2.5 -
Welp... my cactus farm has succeeded in become almost useless... I have a PC full of cactus green and a PC full of waterproofing... what now? I had it hooked up to a recycler for the time being, but I'm thinking of building a new processing plant nearby and am wondering if I can put this cactus farm back to good use.
So, I've hooked up the cactus output to an assembly line that converts them into biofuel cells.. which then leads to a canning machine to fill up fuel cans. I then wanted these fuel cans to run to a storehouse of generators, which would power the processing plant.. it works... sort of... however, it's horrible at getting the fuel to the generators and then back to the canning machine.
Pic of my current setup: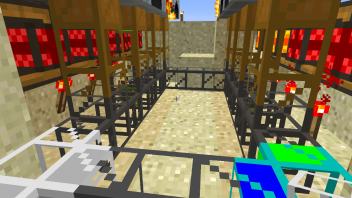 Like I said, the thing works... but the empty fuel cans end up floating around in this circle, going in and out of generators, before finally managing to hit the diamond pipe and get sent back to the canning machine.
I could pump the system FULL of fuel cans, to increase odds of some making it back to the canning machine, but I after 2 hours of sitting and thinking I decided to come ask the community for advice. How can I optimize this setup?