Welcome to Advanced Machines UUUM (Unnerfed Unbuggy Updated Machines).
Download link (I can see I'll need to redesign my download page again, it has too many columns now)
Requires Immibis Core and IC2.
A set of Induction Furnace-like machines for macerating, extracting and compressing.
Unlike AtomicStryker's update, these are plain Induction Furnace equivalents. No nerfs or extra features have been added.
Efforts have been made towards save-compatiblity with AtomicStryker's Advanced Machines (if replacing that with this, just make sure the block ID is the same), but no guarantees.
Rotary Macerator: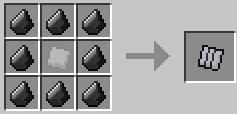 Has two output slots. Max speed is 10000 RPM.
Singularity Compressor:


Max pressure is 90000 Gibbl.
Centrifuge Extractor: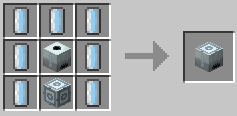 Cells are electrolyzed water cells.
Has three output slots. Max speed is 10000 RPM.
Vacuum Canner:



Cells are air cells.
Max speed: 100 cm/s. Cans go on the left slot, items in the top slot.
Automation can insert cans from the bottom or side, extract output from the side, and insert other items from the top.
Thermal Washer:


Do not insert water into an empty hot thermal washer.
Compacting Recycler:


Can also make scrapboxes from scrap.
Impellerized Roller: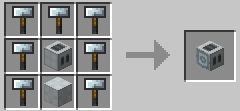 Liquescent Extruder: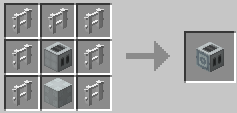 Water-Jet Cutter:


(requires water; if it runs out, the pressure will instantly reset to 0)
New in 57.3.0: GENERATOR ARRAYS - for low-lag renewable power
For low-lag renewable power.
First craft some Array Cable: (tin cable + redstone)


and an Array Controller:



You can then craft Array versions of the standard renewable generators (wind, water and solar) like this:

Place your Array generators wherever you want, and connect them to the controller with Array Cable. After a short delay (depending on the size of the network) the controller will start producing power, and you can connect it to your power network like any other generator.
If you add or remove generators, or break cables, the power output will not update immediately. Right click the controller for statistics.
DO NOT CONNECT TWO CONTROLLERS OR ONE OF THEM WILL EXPLODE. THIS INCLUDES PLACING THEM DIRECTLY NEXT TO EACH OTHER.
So why would you want to use this? One reason: Array generators and cables are very, very, VERY CPU-friendly. In fact, they cause no more load than a stone block! The array controller does all the work, and it does it at a fixed rate, so large networks will not cause more lag than small ones! (They will, however, refresh slower)
Example setup:



(the windmill is producing no power because it's so low, not because it's broken)
Old rotary macerator recipe:


Poll results:


57/88 people (65%) want electrolyzed water as a liquid.
54/88 people (61%) want fast electrolyzers and de-electrolyzers.
62/88 people (70%) want advanced recyclers.
17/88 people (17%) don't want any changes.